The Pullman Hanoi recently metamorphoses into one of the city's premiere business hotels – close to corporate headquarters and government offices, an easy 10-minute drive to the charm of Old Quarter. Ideal for work meetings, equally well-suited for socialising, with all-day dining at La Cheminee restaurant and panoramic views from the upper floors.
SERVICES OFFERED BY THE HOTEL
. Internet access
. Connectivity Lounge
. Fitness Lounge
. Access to the pool
. Complimentary mineral water in the room
. Parking
. Free accommodation and breakfast for up to 1 child(ren) under 12 y. sharing the parents room (by using existing bedding, or if the room is large enough, a crib or a roll away bed) having breakfast as a family.
THE BEST OF THE HOTEL
Step outside and into Hanoi's bustling business district.

STAY CONNECTED WITH FREE WIFI.

At Pullman hotels we take connectivity seriously. It's not merely about plugging and playing. It's about getting and staying online with the utmost security.

Take a break from work and Work out in the new Fit Lounge.

The fragrance evokes a sense of peace, rich in lavender scents and mint freshness. With a head of zesty citrus on a floral rose body and a musky base, it has a hint of tobacco.
Stay Connected with free Wi-Fi anywhere in the hotel

Upgrade to a Deluxe Room featuring two inviting Pullman Beds and an invigorating rain shower. 40″ LED TV, free wifi, connectivity panel and a complimentary selection of soft drinks from the minibar.
INSIDE THE ROOM
THE PULLMAN PLATFORM BED -FOR SLEEPING. OR WORKING.
A Pullman platform bed is more than just a bed. It's an environment for sleep, work and just lounging around. With memory foam pillows.
Shower
Bathtub
Toilets
Radio in bathroom
Telephone in bathroom
Hair dryer in bathroom
Universal shaving plug
Make-up/magnifying mirror
Italian shower experience
Rainfall shower experience
Welcome tray
Safe deposit box
Free in-room mineral water
Soundproof
Blackout curtains
Wide working desk
Crib on request
Adjustable desk lamp
Mini bar with free soft drinks
Air conditionning with individual remote
Extra bed in room for adult
Minibar
Nespresso experience offered
Room service: From full meals to light refreshments, from local delicacies to international classics, our room service menu can suit any schedule or mood.

During the week: 24 HOURS
At weekends: 24 HOURS
MEETINGS
THE MEETING BY PULLMAN
More than an offering, it's an entire concept. Co-Meeting by Pullman provides you with high-level technologies and equipment for flawless service. That's how great ideas will enable you to stay one step ahead of the game.
HOTEL MEETING OFFER
With 870 square metres of easily configured meeting space, the Pullman Hanoi is ready to handle any and all events.Let's get technical for a moment. All our meeting rooms are equipped with the latest technology, and free WiFi is available throughout the hotel.Our in-house experts – that is, the dedicated Event Manager and IT Solutions Manager – step up to provide advice and help make your event a resounding success.
PRACTICAL INFORMATION – MEETING ROOMS
Number of meeting rooms
10
Area of largest meeting room
639 m²
6878.14 sq.ft.
Capacity of largest meeting room
1000 people
CONNECTIVITY LOUNGE
THE PULLMAN CONNECTIVITY LOUNGEPOWERED BY MICROSOFT®
In the Connectivity Lounge, guests can work at computers running the latest generation of Microsoft software. Surf the Internet, read emails, print documents and stay in contact with friends and colleagues.
SERVICES OF THE CONNECTIVITY LOUNGE
Internet connectivity
Comfortable and wide working spaces.
LA CHEMINEE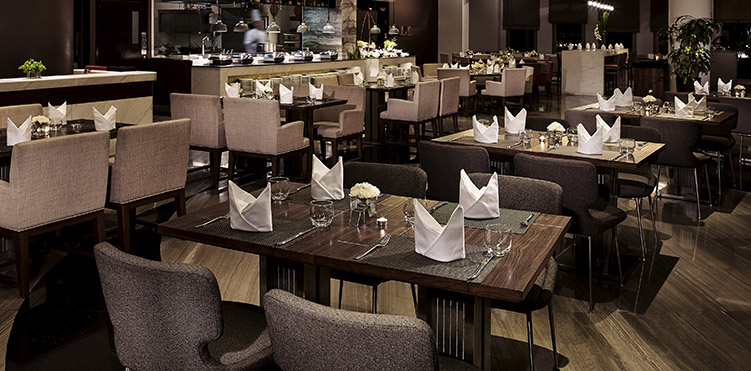 The restaurant serves cuisine inspired by local culinary tradition and international classics, revisited with an eye to contemporary trends