With more than 100 budget hotels in Hanoi Old quarter – Easy to access to explore life time in Hanoi during stay 
Top 10 boutique budget hotels in Hanoi, Vietnam by The Guardian
Hanoi is the world's copycat capital when it comes to hotels, restaurants and tour operators, but there's nowhere else like Guesthouse, quite possibly the most authentic homestay in Vietnam. Behind a thick door off a busy boulevard …
Y Lan Guesthouse
Hanoi is the world's copycat capital when it comes to hotels, restaurants and tour operators, but there's nowhere else like Y Lan Guesthouse, quite possibly the most authentic homestay in Vietnam. Behind a thick door off a busy boulevard in the French Quarter, the quiet, modest guesthouse faces an incredibly beautiful 150-year-old temple. The tiled temple, fronted by wooden columns and dangling orange lanterns, houses the ancestor altars of the family of Mrs Nguyen Thi Kim Oanh, the guesthouse owner. Bedroom number three, with louvered shutters, has a balcony overlooking the pretty fan-shaped tile tips of the temple. No-nonsense Mrs Oanh, who speaks French but little English, provides breakfast on the marble-topped table next to the family kitchen, and will take you inside the family temple if you ask.
Maison d'Orient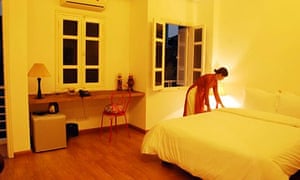 Tucked into a tiny cul-de-sac off another tiny alley just south of Hanoi's Old Quarter, this gorgeous architect-designed hotel is filled with handcrafted furniture, and beautiful propaganda-style prints. The 12 rooms, named after spices (ginger, cinnamon, anise), have bamboo furniture, red lacquer lamps and bamboo shades, as well as inviting corners with French colonial armchairs and mismatched pretty cups and saucers. Breakfasts are taken at smart lacquered square tables, and ginger tea is served on the ground floor terrace amid a scattering of bright floral cushions. Once you head out, you're surrounded by some of Hanoi's best restaurants.
• +84 4 39 38 25 39,  doubles from $25.00
Maison d'Hanoi Hanova Star rating: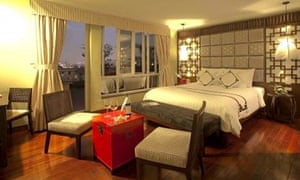 This perfectly pitched Hanoi hotel combines Indochine elegance with a modern ambience. Ceiling-height padded silk headboards prop up wonderfully comfortable beds layered in white cottons in rooms with polished wooden floors, silk lamps, red Oriental trunks-turned-tables, and chairs upholstered in silver cotton and chenille. Its location on Hang Trong, just south of the Old Quarter, and just around the corner from one of the most popular shopping streets, Hang Gai, makes it the perfect base for shopaholics. After a day pounding the streets, head to the top-floor Le Royal Spa, for a soothing foot massage.
•+84 91 205 5872, hanovahotel.com, doubles from around $30.00/night.
La Maison Hai Ly Star rating: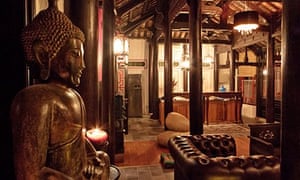 A scythe-shaped bend in a Red River tributary hides this exquisite 18th-century house. It is just 15 minutes from Hanoi's Old Quarter but a rural calm descends on La Maison Hai Ly and its garden of flourishing guava, banana and orchids. The house, with a low, tiled roof tipped with circular blue ceramics, was transplanted from Hoi An, a former Chinese mercantile port in central Vietnam. This hideaway for two combines an open-plan living room and kitchen facing the private garden. In winter, keep cosy with the cottage wood burner; in summer, light the barbecue in the walled garden. Breakfast is provided and Vietnamese meals, using herbs and seasonal vegetables from a nearby market garden, can be requested for supper.
•+84 4 39 76 62 46, orientalbridge.com/maison-en.htm, $90 a night for two, $15 per extra person, including breakfast
St Joseph's Hang Da Star rating: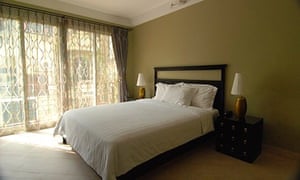 Modest and minimalist, this modern nine-room hotel is a great place to meet fellow travellers, and a great-value find. The large front window in the black-and-white tiled breakfast room/reception looks out on to busy, non-touristy Duong Thanh, an arrow-straight street on the edge of the labyrinthine Old Quarter. St Joseph's spartan, olive-hued rooms have thoughtful touches – coffee-and-maroon Chinese boxes-turned-bedside-tables, desks, mini bedside lamps, and drums converted into gold-beaded floor lamps. Ample breakfasts – cereals, fruit, pancakes, French toast and pho (Vietnamese noodle soup) – is served in delicate ceramics, and a fully stocked mag rack invites lounging and lingering. It also happens to be opposite one of Hanoi's best cha ca (pan-fried fish with turmeric and dill) restaurants, Cha Ca Thang Long, at number 19-21.
•+84 4 3923 4229, josephshangdahotel.com, doubles from $40.00
Le Hong Thai Homestay Star rating: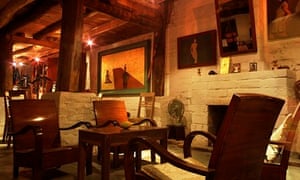 Hanoi artist Le Hong Thai fashioned this rambling shabby-chic getaway on the foundations of an old stilted house in Long Bien district, in a mini bonsai garden in the yard behind his workshop. A central open fireplace dominates the huge open-plan living room, dining room, and kitchen, all supported by an interior grove of ancient columns. The walls are hung with his large abstract paintings and, behind every column, there's an artfully placed object – a vintage sewing machine, a feather boa lampshade. Upstairs, a grand piano greets a freestanding bath while at the other end of the room, two double mattresses, on raised platforms face each other. As you climb higher, you'll find another two bedrooms, other bathrooms, stairs to a private courtyard and, carefully nurtured in the rafters, the ancestor altar reflecting on all that happens below.
•+84 919 266 852, lehongthai.webuda.com, from $75.00 a night including breakfast
Golden Silk Star rating: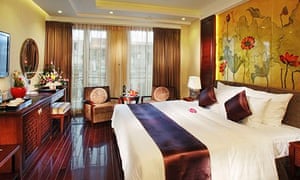 Spacious, supremely comfortable rooms with vast beds set this Old Quarter hotel apart from the dozens of other Hanoi hotels professing to be "boutique" boltholes. If you're in Hanoi to shop, its location is perfect, set smack in the middle of busy Hang Gai (Silk Street). Most of the rooms are set back off the busy shopping route, and offer luxurious surroundings at remarkably good value. It's all rosewood floors, brushed silver velvet armchairs, lacquer-and-shell bedside lamps and silvery wallpaper. A tub in the bathroom seals the deal.
• +84 4 3928 6969, goldensilkhotel.com, doubles from $68.00
Hanoi Backpackers' Hostel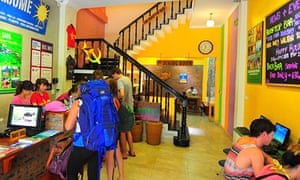 Fitting a cavernous hostel into a small Old Quarter street is quite a feat. And the facilities here are so wonderful, you might have trouble actually stepping out on to the streets of Hanoi. Street side is the popular chill-out lounge, bar, and restaurant. Upstairs, there's more lounging on offer with a computer zone, pool table, bar football, sun terrace, beanbags and book exchange. There's a roster of activities, too – free morning walking tours, Wednesday pub quizzes, Sunday barbecues, parties, sport screening and a nightly organised bar crawl. And if you want to sleep, there are a handful of private rooms but mostly dorms complete with huge lockers, thoughtfully placed individual electricity sockets above your pillow, and little bed lamps. And eggs on toast for breakfast.
•+84 4 3935 1890, vietnambackpackerhostels.com, dorms from £4.70, doubles from £31 B&B
Anise Hotel : Star rating:

In a bundle of streets between the tip of the Old Quarter and West Lake is the friendly Anise Hotel, facing Hang Dau park, where you can join Hanoians for tai chi sessions at dawn, or aerobics at dusk. Anise offers a genuinely warm welcome and a comfortable lobby with blue, aubergine and silver velvets and cottons wrapped around funky furniture. The smart, modern rooms come with beds made from water hyacinth rope, tasteful lacquer art on the walls, and mostly sleek bathrooms. This northern corner of Hanoi is resurgent. Close by is Manzi, a new contemporary art gallery, and 54 Traditions Gallery, a shop-cum-gallery exhibiting authentic arts and crafts from Vietnam's 54 ethnic groups.
•+84 4 3927 4670, anisehotel.com, doubles from $50.00
Ha Noi Chic Hotel
Star rating:
Rate from: $ 30.00

Add: 18 Hang Hom str, Hoan Kiem, Hanoi, Vietnam
Hanoi Chic Hotel  offers a perfect location in the heart of Hanoi Old Quarter, and our Chic Hotel in Ha Noi is close to many of the city's famous shops, world-class restaurants and tourist attractions. Hanoi Chic Hotel is the perfect combination of boutique and location that is unrivalled by.
 Hanoi Elegance Saphire hotel
Hanoi Topaz Hotel
Ha Noi Imperial Hotel